GROUP Settings
In piSignage we manage a set of screens by assigning them to GROUPS . Here we explore the different GROUP settings available to manage & control a group of players.
In piSignage we manage a set of screens  by assigning them to  GROUPS .
Read the application of  GROUP feature in detail here. Here will explore the different options in GROUP settings available to control a group of players.
First Choose the GROUP you need to modify (1 &2)  and go to the SETTINGS section in the top right corner (3).(refer screenshots below). A popup window opens.
Note : In the example shown there is only one group called "Default" in the account. There may be many groups.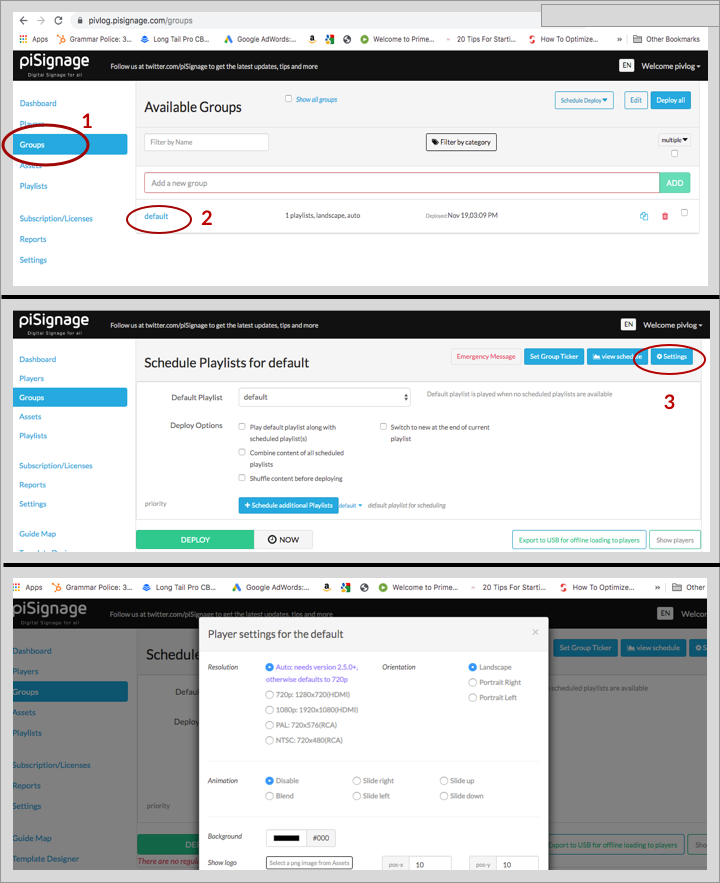 Now let us see each feature one by one.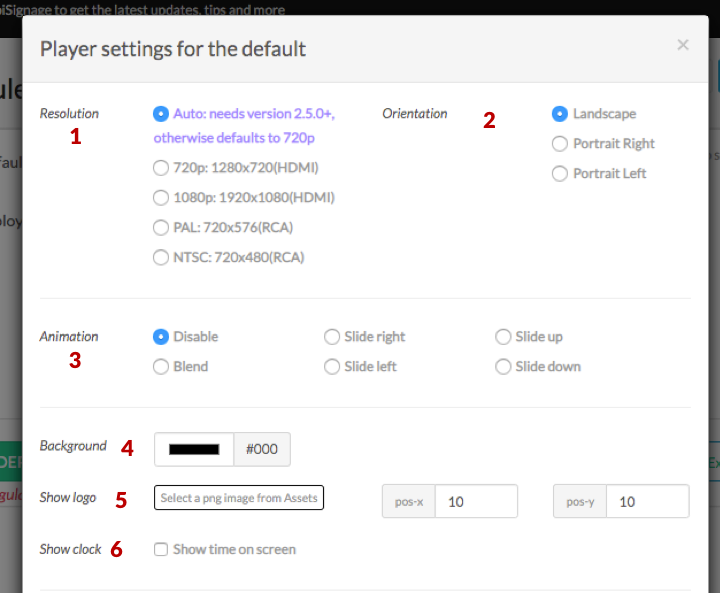 1) RESOLUTION.
If you have player software version of 2.5.0 and above you have an auto mode which will select the resolution automatically  based on the screen.
You can choose resolution depending on your Screens and need. You can create signage displays using standard resolution HD (720p) and full HD (1080p) . Most of the  piSignage implementations are done using 720p or 1080p resolution screens. Some popular features of piSignage like multi zone displays can be easily  created in these 2 resolution screens  with the help of pre built layouts.
PAL and NTSC displays are also supported by piSignage.
The Signage displays can be in Landscape orientation or Portrait orientation. Chose Portrait Right, when the screen is rotated in clockwise direction and  Portrait Left when screen is rotated in anticlockwise direction to create a display in portrait mode.
3) ANIMATION
You can choose how asset transition happens when multiple assets are part of a playlist. The options here are self explanatory. Slide right, Slide left, Slide up, Slide down options make the displays eye catching. we also have a new option Blend where there is a smooth transition from current asset to the next asset.
4) SCREEN BACKGROUND
The background of the screen is by default Black (Hex code - 000000). Choose any background colour you need for the screen using the  colour wheel or other options available.
5) LOGO
If your establishment has a Logo it can be displayed Displayed. You can adjust the location of your logo on the screen. Default display of the logo will be on the Top left corner of the screen. You can give appropriate value for  X and Y positions to get the Logo at the position of your preference on the screen.
6) CLOCK
Display the local  time on your screens. You can choose either a 12 or a 24 hour format and can be displayed at Top Right or Bottom Right of the Screen.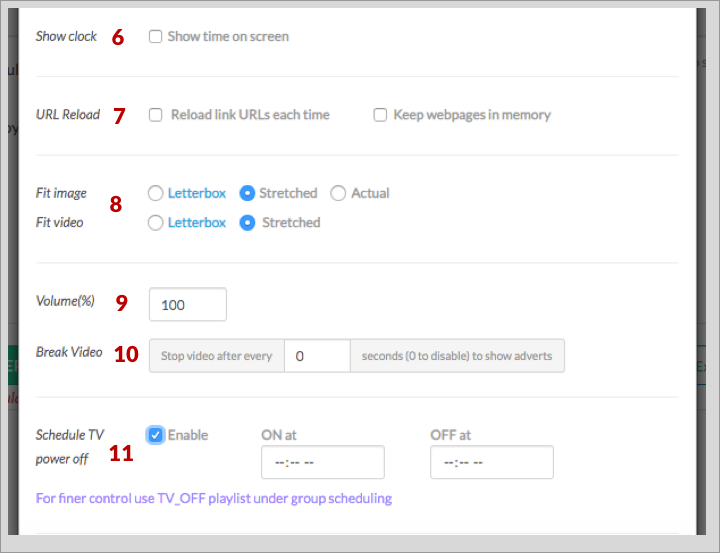 7) URL RELOAD
Reloads the Contents in case of assets being Web Links. the players should be connected to the network for this to happen.
8) FIT SCREEN ( Fit image & video)
This feature is useful when image/video asset dimensions don't match the dimensions of the zone of the layout you are using.

a) Actual mode displays the assets as it is.

b) Letterbox mode stretches the asset to occupy maximum screen space without distorting the image/video aspect ratio.

c) Stretch mode  stretches the asset to completely occupy the screen and thus may result in display distortion.

<!Refer to this detailed Write up on How Fit screen Feature Works in piSignage and the behaviour of assets based on their size and aspect ratio in each modes.>
9) VOLUME
Control volume if you are using an asset with audio.
10)BREAK VIDEO -  INSERTING AN ADVERT  BETWEEN A VIDEO
This entry here lets you pause the video asset in  your playlist at the time you specify, Display an contents of ADVT playlist if scheduled and then Again resume the Video play.

remember this works with video assets only.

To understand fully  the utility of this Feature with simple examples

1) Read the Article INSERTING ADS BETWEEN REGULAR PLAYLIST to know step by step process.

2) Read about ADVT playlists.

3) Read article STOP VIDEOS TO INSERT ADS.

Assuming you have read the above 3 articles let us refer to the Screenshot here where we have given Stop video after 20 minutes. If The Regular playlist of the Group has Video asset, that video asset will be paused after every 20 minutes. If an Advt playlist is waiting to be deployed , it will be played and after its completion, the Video asset will resume from the stoped point.

NOTE : This particular feature is of practical utility when we have  Large Duration Videos as assets. So we can pause the video for Ads. Secondly if there is no Advt playlist scheduled during the pause time , the video plays without interruption. Also the application is limited only to when you have video assets.

<!Refer this article to know in detail about inserting Ad between videos feature at group level. Inserting Ads between regular playlist is a popular feature in piSignage. Refer this article to know the different options available in piSignage to display ads between regular playlists .>
11) SCHEDULE TV OFF
Most of the establishments function for limited period of time through the day. So you can Automate the player ON and OFF times. For example you can set the timings here to  keep the screen running from morning 9 am to evening 7pm. So every day at 7 pm the player turns off automatically and at 9 am next day the displays are running again.
The above is a very simple implementation of automatic Switch-Off of screens.  You can micro automate player ON-OFF times, like having multiple Screen shutdown times throughout the day with TV_OFF playlist feature.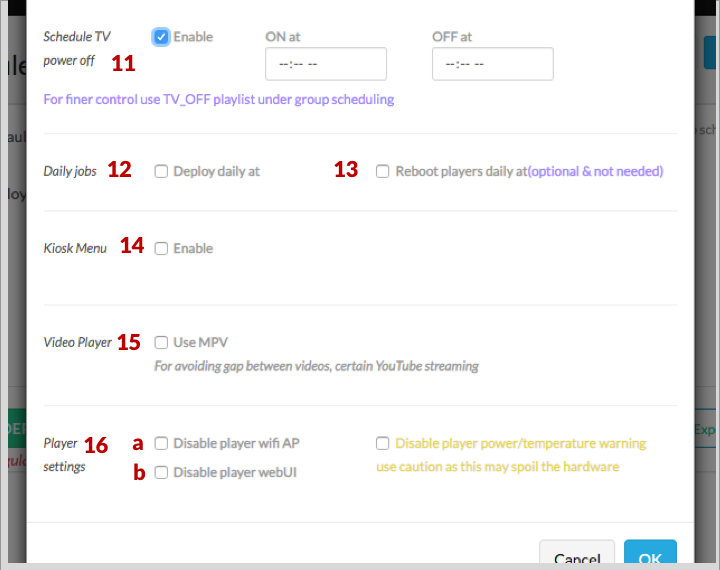 12) DEPLOY DAILY AT
The piSignage player gets loaded with assets from the server  ONCE at the time of the DEPLOY of playlist and then the contents are played locally. (if there are Web Links that are assets , they may be loaded every time from the server, that too only if specified. Else  cached contents will be displayed.)  
By using Deploy daily at feature you can make sure the Assets are reloaded from the server at the specified time.
The feature is better explained with an example. Let us say you have a playlist  deployed. Now  you add couple of more assets to the playlist but unless you manually deploy the playlist again, the original un-edited playlist will be displayed as the contents are displayed locally from the player.
Say if you want to edit/update the deployed playlist but want this edited playlist displayed not immediately but some time later at a given time ,  specify the time here. So if you give a deploy time of 9 am, daily the playlist will be freshly deployed at that time and any edits in the playlist will be reflected in the display.
Note: The above deploy function is useful only when you go to the playlists section and then edit the contents/assets of the  playlist. if you go to the GROUP and by chance end up changing the playlist, the New playlist gets deployed automatically, without you  clicking on Deploy button.
But if you really want to customise your  display with different playlists for different time/days and schedule the deploy time in advance, we have feature for that too !!!
13) REBOOT PLAYERS DAILY
As you like to start your day with a freshening up, there are Linux purists who like to reboot their systems and start with a clean slate everyday. [ The above analogy was provided by one of our customers!! happy to share with you :) ].
Though the  lack of daily player  reboot does not affect the performance of our players in any way, we always oblige our customers request. Strictly optional but , the choice is yours. All you need to do is check the Box and set the time for daily reboot.
14) KIOSK MENU
With this you can operate your screen as a kiosk.
15) VIDEO PLAYER
Choosing MPV player gives better performance particularly wrt to minimum gap between loading 2 video assets. Given as a choice because MPV player was less stable compared to the default OMX player. But MPV player is getting stable with improvements and just a matter of time before they become default, making this feature redundant.
16) PLAYER SETTINGS
a) DISABLE PLAYER Wi-Fi AP
piPlayer works as an wireless access point which makes it very convenient to configure WiFi in piPlayer.And this functionality is automatically disabled when we configure WiFi in the player for the first time .Refer article WiFi COnfiguration on Pi for details. Now if you do not intend to use this Wireless access functionality for setting up WiFi and run your Player with network connection via LAN cable the access point can be disabled by ticking the Box here.  
b) DISABLE PLAYER WEB UI
An individual  player can be accessed and manipulated via its web UI with the help of  player IP address in a network . So to avoid any unwanted interference at player level, the web UI can be disabled here. Thus the player can only be controlled centrally.
Feel free to reach us for any queries  support@pisignage.com