SUBSCRIPTION/LICENSES SECTION IN PISIGNAGE ACCOUNT
This Section will reflect the details of your licences and subscriptions. Keep track of all the details here.
This Section  will reflect the details of your licences and subscriptions. When you Sign up for the first time The section will Show Total licenses available  as 2 and Player month credits as 24. With this you can manage 2 players for 12 months each .
Note that After a year, enough  credits will be refilled back  so that you can continue managing these  free players for one more year and the process will be repeated . So as we promised if you sign up now the 2 players can be managed freely from your account for life.

Now let us see Individual Columns in detail. Please refer the Screenshot.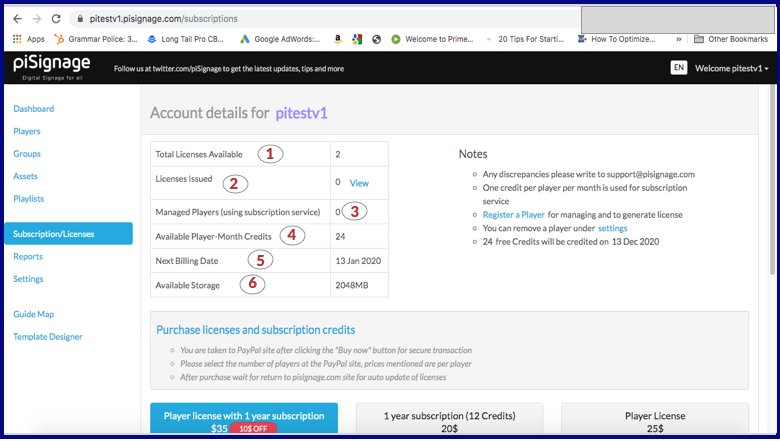 1) TOTAL LICENCES AVAILABLE
The default entry on new Signup will be 2 as with every Signup you get 2 free licences. If you buy more  player licenses They will be reflected in these field , in addition to the first  2 free players .

2) LICENSES ISSUED
License issued signifies  the players you have registered. You can register players equivalent to total licenses available.
If you delete a Managed player mid way , The licenses issued will be decremented.  You can always  add back a  player in future when  needed.
The Licenses issued section also keeps a track of players you have bought and registered to run with open source servers.


3) MANAGED LICENSES
This section keeps Count of the player Credits Consumed per Month based on Number of managed  players  present in that monthly billing cycle. Every account has a fixed monthly billing date and on this day player credits will be deducted  based on managed players count.
Note that a even a player deleted during a billing cycle will consume one credit for that billing cycle.

4) AVAILABLE PLAYER MONTH CREDITS

Reflects  credits available to manage players  in your account. Buying a subscription gives you 12 credits, sufficient to manage one player for a year as every player consumes one credit per month.
Applicable credits will be deducted on on every billing date.

5) NEXT BILLING DATE
This shows the Billing date for that particular account. On this date all the credit deductions are done for the particular month billing cycle.

6) AVAILABLE STORAGE
Storage available per account. You get 1 Gb storage for every player player licence available in your account. Default storage will be 2GB with 2 free players.
Contact support@pisignage.com  if you need more storage or for any other queries.